4 Ways to Boost Views on Your Made Microsite
Made News
In the last 12 months, Made in Group have put serious investment into their digital platform, to ensure that members receive maximum value from their microsite.
With Live Chat functionality, HTTPS Security, unlimited content marketing opportunities through News uploads and much more, Made Microsites have now developed into seriously powerful tools for members to foreground their company within the UK manufacturing industry.
Made in Group recieve an exceptionally high number of visitors to their online platform, evidenced by the fact that madeinthemidlands.com and madeinyorkshire.com rank no. 1 on Google for "Midlands Manufacturing and "Yorkshire Manufacturing" (respectively).
With the best performing microsites having tallied up tens of thousands of views, the success of a member's Made Microsite is predominately down to how they use the platform. Therefore, to ensure members are making the most of this powerful platform, Made's Digital Team have put together 3 simple yet effective tips to ensure you are boosting traffic to your microsite.
1. Upload Regular News

Posting articles through your Made Microite is a great opportunity to share positive success stories and champion industry knowledge through your brand. By posting regularly, you will become recognised as a regular face by members and they will be more likely to engage with you as a company in the future.
We recommend posting articles once every 2-4 weeks to maximise on the limitless content marketing and PR potential of the Made News section.
The best articles are also "Featured" - which means they will be shared out in Made in Group's weekly email digest to thousands of industry leaders - and also shared on the group's social media platforms.
2. Use the "Proud Member Of" Logo
This one's important. Using the "Proud Member of" Made logo and "Backing Britain" logo (which can be found in the "Resources" section after logging in to your account) is vital for boosting external traffic to your microsite.
Paid members can use these logos in a variety of ways, such as placing them on their main company website and email signature, with a link going back to their Made Microsite.
3. Promote Your Microsite on Social Media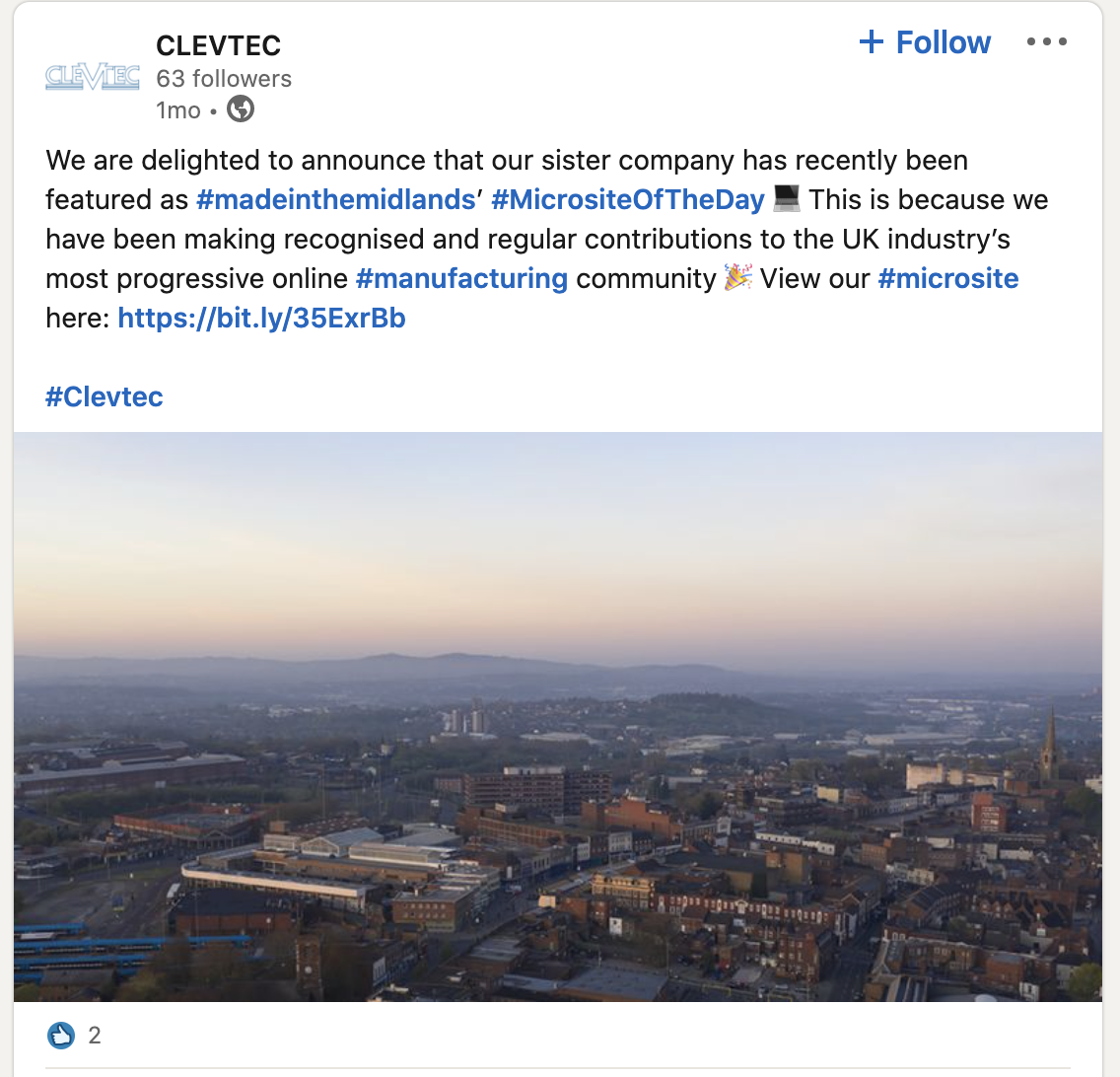 Whether it's posting a link to your main page or to an article you have, promoting your microsite on social media is imperative for increasing traffic to your platform. Encourage others to visit the microsite and find out more about your company and the latest content you have posted.
4. Update Your Directory Listing

With Made in Group recieving thousands of visitors to their respective Midlands and Yorkshire sites every month, it is vital for members of both regions to keep their Directory Listing information updated to capitalise on this potential traffic. The Members Directory is a powerful tool which allows website visitors to pinpoint local UK companies based on their capabilites.
Your information can be updated by logging in to your account and going to the "Directory Listing" section on the left, where you can input the likes of "Sells", "Sectors", "Accreditations" and "Buys".