ADT Flexibles Host Their First Virtual Breakfast Morning with Made in Yorkshire
Made News
Over the last few months, Made in Yorkshire have relaunched our landmark Breakfast Mornings as virtual events, allowing members to network and build lasting relationships in the name of challenging the erosion of British Industry.
Today at 9 am on Wednesday 14th October, Made in Yorkshire members ADT Flexibles hosted our Virtual Breakfast Morning, with over 30 members in attendance.
ADT Flexibles (UK) Ltd was formed in 1982 to provide prompt and reliable service to users of flexible hose and fittings.
The event began with all attendees giving a short introduction of themselves and their company before ADT FLexibles' Andrew Thomas gave an insightful presentation. Andrew was keen to emphasise that ADT Flexibles have strong experience in a variety of industry sectors - being able to provide benefit to "any industry that uses a hose!"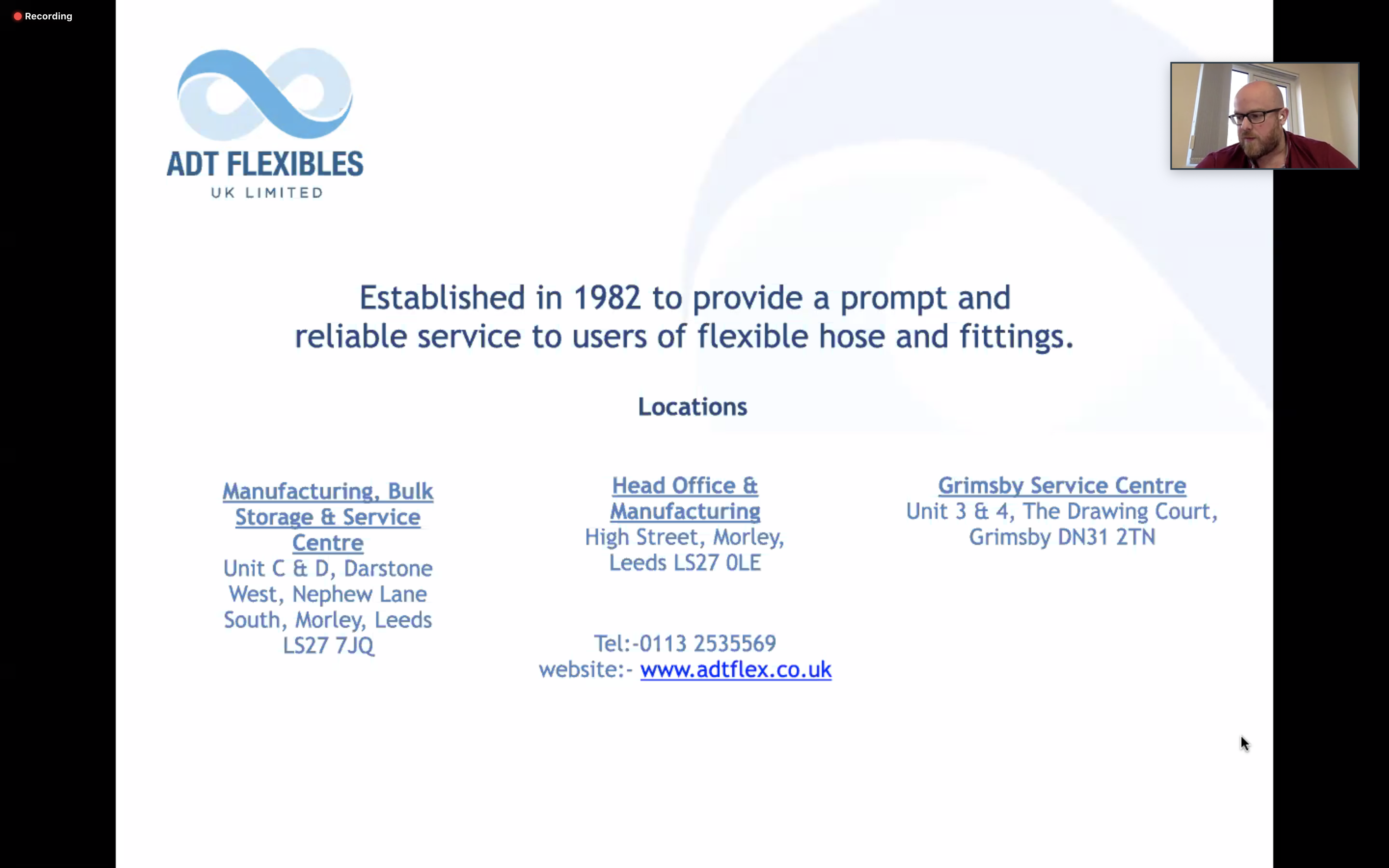 The company have been on a sustained period of growth, for exaample, in 2012 ADT Flexibles opened their new Manufacturing and service centre in Morley near Leeds. At Morley, they manufacture stainless steel, P.T.F.E, composite and food hose assemblies. However, as their business continues to evolve to keep up with the customer and industry demands, our core values remain the same; to produce a fast and efficient service, producing high-quality products at a competitive price.
The presentation also detailed why ADT Flexibles have a responsibility to ensure of the integrity of each hose they sell is correct, alongside how they guarantee this with rigorous checks. "We will never supply a hose untested" - checking for leaks, abrasions, visible problems, etc.
After ROCOL's presentation, the attendees were sent off into smaller "Breakout Rooms" to network, socialise and discuss common challenges and solutions regarding current UK industry trends. Attendees were sent into two of these 15-minute breakout groups, consisting of 4-5 members each.
You can discover our up and coming Virtual Breakfast Mornings below. And make sure to receive your FREE breakfast goodie box by signing up to our VBMs 1 week before the event!
MIG Made Futures Virtual Breakfast Morning: Thu 29th October at 9am - SIGN UP NOW
MIY Virtual Breakfast Morning with GSM Valtech: Wed 11th Nov at 9am -

SIGN UP NOW
MIY Virtual Breakfast Morning with Rheintacho UK: Wed 25th Nov at 9am -

SIGN UP NOW