#BBLive2020: Meet our Keynote speakers
Made News
Backing Britain Live 2020 is only weeks away. This mammoth event will include keynote speeches from industry leaders, alongside networking areas and over 150 manufacturing exhibitors.
Every weekday of the event, from 17th - 28th August, we plan to have an industry-leading keynote speaker. Our aim is to promote, inspire and share best practice within UK manufacturing in which we believe these speakers can help us do so.
Keep reading to find out what we have in store for you at the Backing Britain Live Festival…
Graeme Hackland CIO of Williams Formula 1
Graeme is the Chief Information Officer (CIO) at one of the leading Formula 1 teams. With over 23 years experience in Formula 1, Williams brought Graeme on board to "drive the digital and information technology transformation programme." He is a Fellow of BCS, a member of the IEEE and IEEE Computer Society and holds a National Diploma in Electronic Engineering (LC) from Natal Technikon, South Africa.
Make sure to catch Graeme's speech on Monday 17th August at 12 pm. Click here to get your tickets.
Janet Mui Investment Director at Brewin Dolphin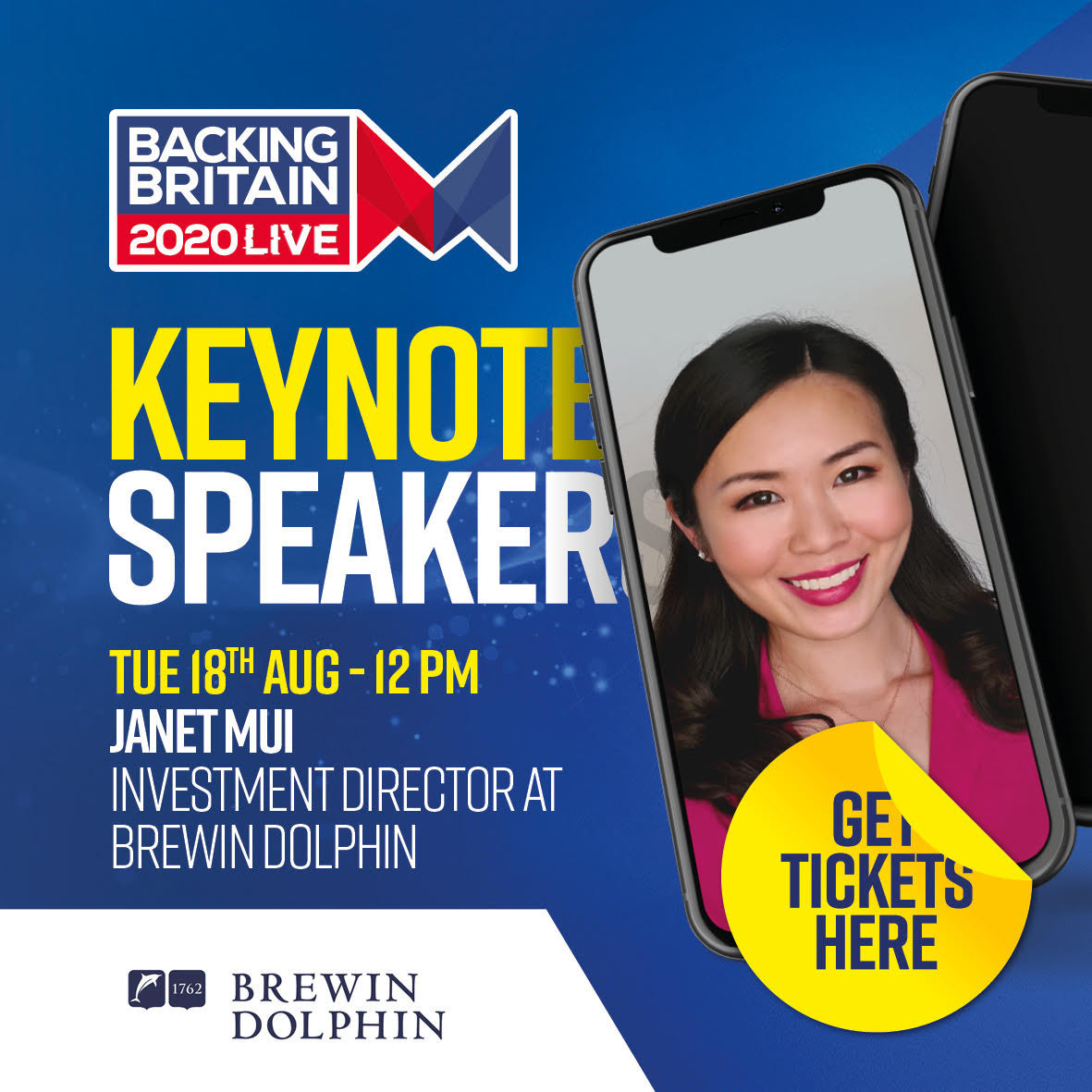 Janet is an Investment Director at Brewin Dolphin, and a frequent commentator in written and televised media, including the BBC, Bloomberg, CNBC, Reuters etc.
Janet's event will focus on the following:
Made 'BUY' the Midlands – The Shrinking Supply Chain
Covid 19 Recovery - Economic Macro house view 10 mins
How does that impact on Manufacturing in the UK – How do we see that changing 10 mins
The impact on Supply chains – visibility/reliability/onshoring, evidence of it happening thought leaders etc - 10 min
Questions – 10 mins
Make sure to catch Janet's speech on Tuesday 18th August at 12 pm, Click here to get your tickets.
Rhys Herbert Senior Sector Economist for Lloyds Bank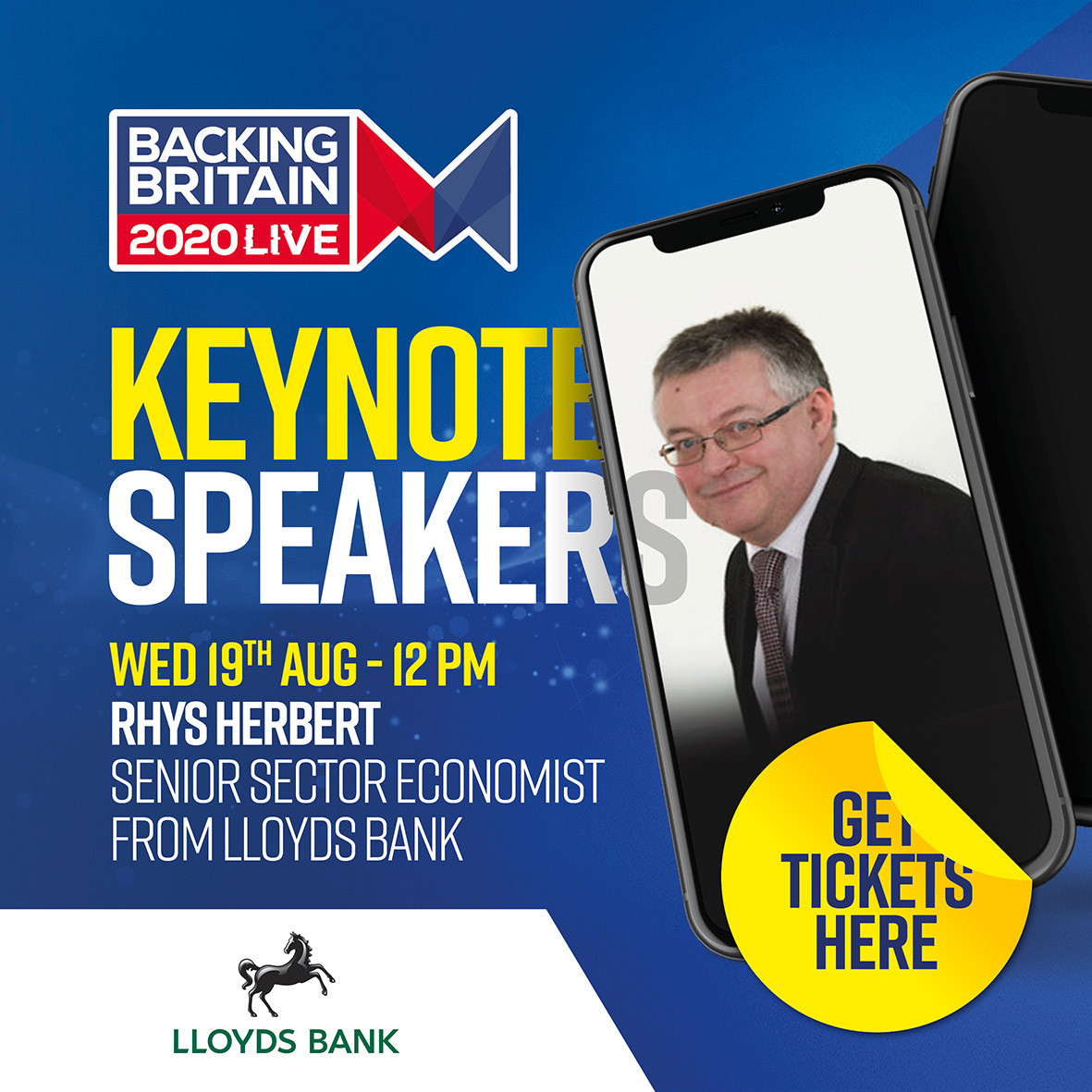 Rhys has been a senior economist for the past 17 years, previously working for the likes of National Statistics and Oxford Economics. Last year, he spoke at the Made in the Midlands exhibition focusing on the economic outlook for the UK's manufacturing sector on behalf of Lloyd's bank, also patrons of the Made in Group.
Make sure to catch Rhys' speech on Wednesday 19th August at 12 pm, Click here to get your tickets.
Andrew Boothroyd Head of Logistics Engineering and Future Solutions at Mclaren Automotive Ltd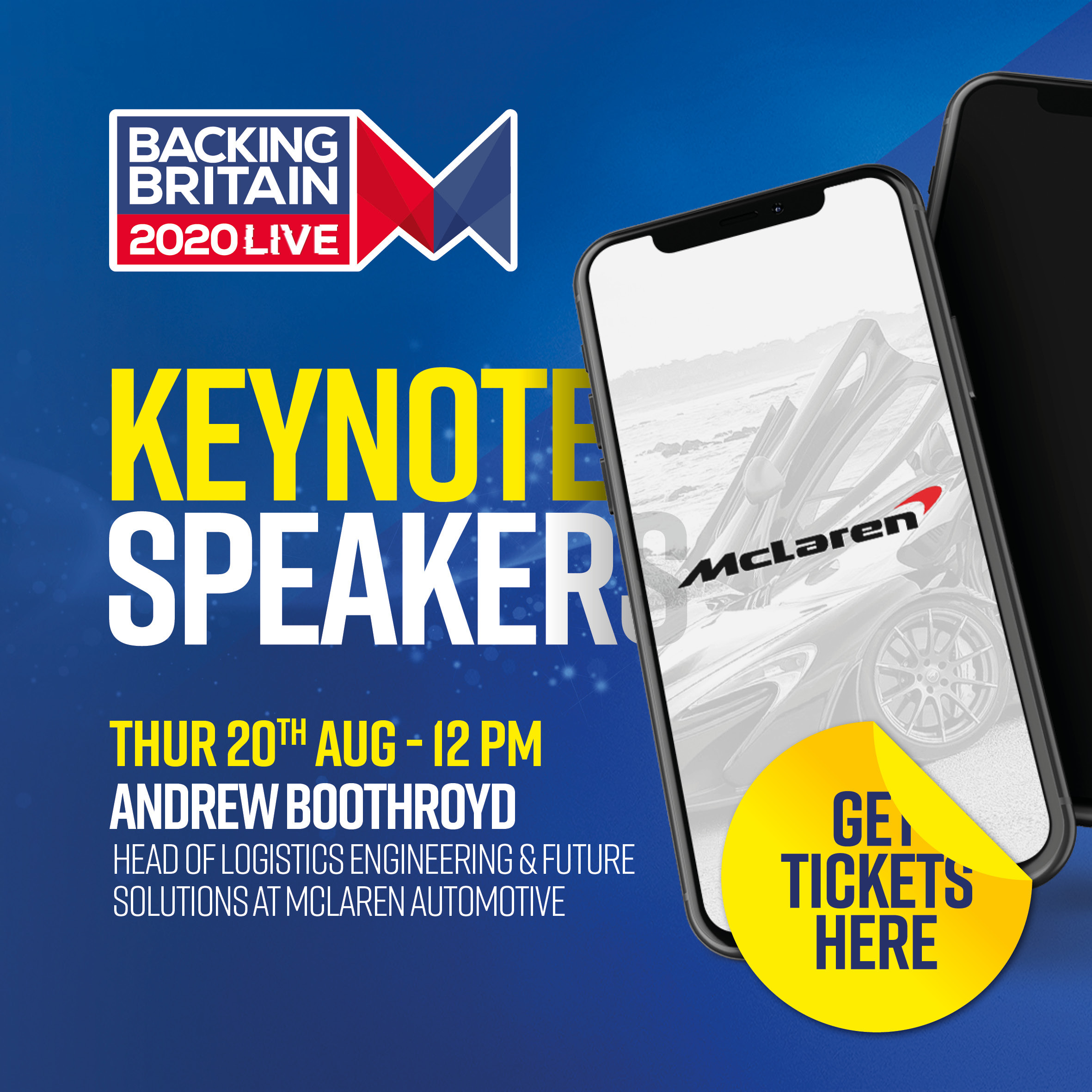 Andrew is "a senior operation and supply chain leader, possessing both strategic and operational experience, who is commercially astute with strong business acumen". Before being appointed as Head of Logistics at Mclaren, Andrew started in the company as a Senior Manager, who has previously worked for the likes of British Airways and Virgin Atlantic. His speech at Backing Britain Live will focus on the firm's relationship with local Midlands manufacturers, who helped with the latest and fastest Mclaren supercar.
Make sure to catch Andrew's speech on Thursday 20th August at 12 pm, Click here to get your tickets

DR Andy Palmer former CEO of Aston Martin
Before arriving at Aston Martin back in 2014, Andy worked for Nissan Motor Company for 23 years, reaching Chief Operating Officer after 13 years living in Japan and China. As CEO of Aston Martin for 6 years, Andy's dream was to "to challenge the erosion of British industry", something the Made in Group also strives to do every day. With extensive knowledge in the Automotive sector, Andy will be focusing his speech on "The future of the Automotive Industry in the UK".
Make sure to catch Andy's speech on Friday 21st August at 12 pm, Click here to get your tickets.
Richard Franklin UK MD of Airbus Defence and Space & Head of Secure Communications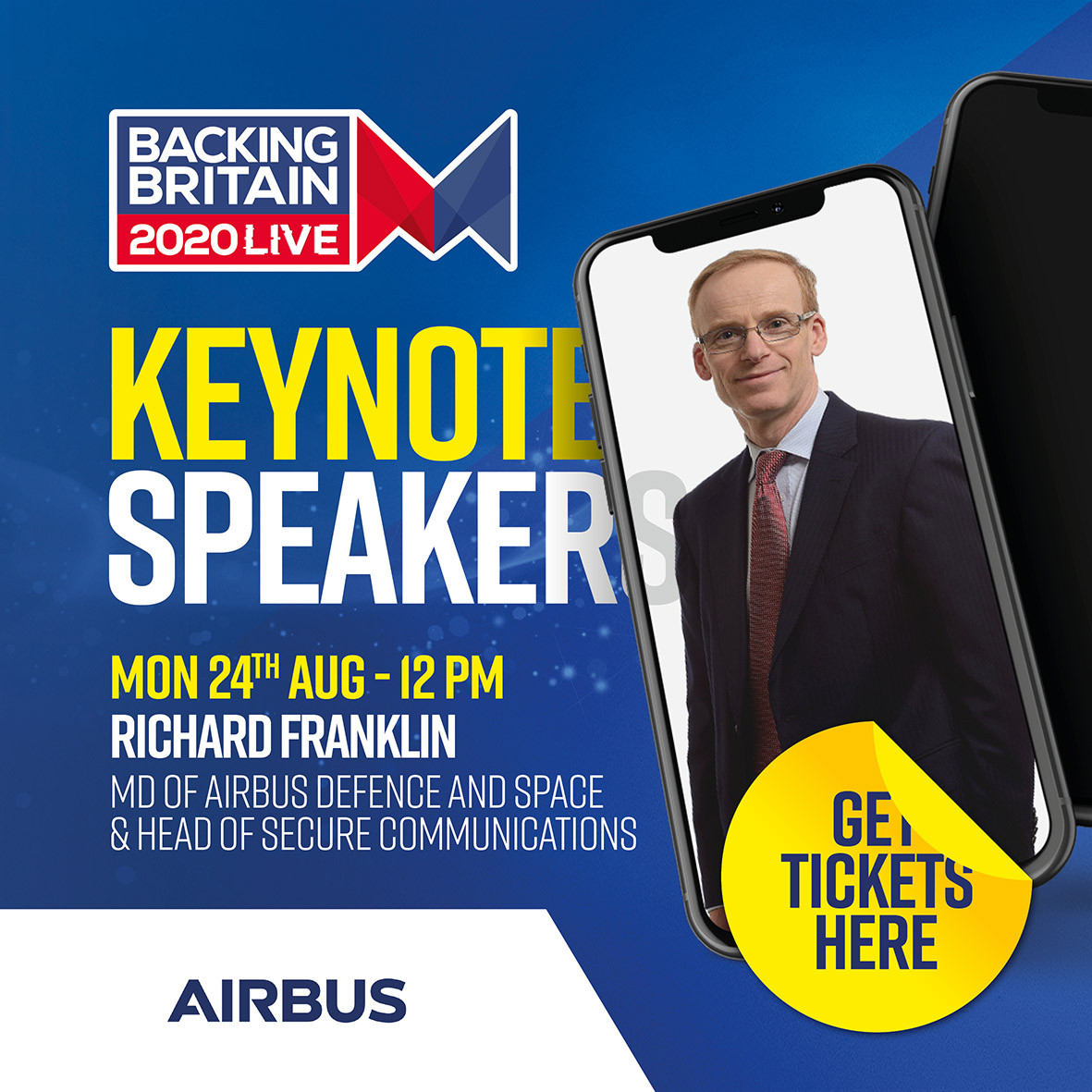 Richard has been part of the team at Airbus for 4 years and has recently been appointed UK Managing Director alongside being head of secure communications. Richard continues to lead the Secure Communications business line which includes "the UK MOD's Skynet 5 secure military satellite communications contract as well as all secure communications activities across Airbus."
"Airbus Defence and Space in the UK include satellite, spacecraft and space equipment manufacture and design, military aircraft, secure communications, cybersecurity and intelligence, with principle sites in Stevenage, Portsmouth and Newport."
Make sure to catch Richard's speech on Monday 24th August at 12 pm, Click here to get your tickets.
Dominic Cartwright CEO of Gardner Aerospace
Dominic has extensive experience in the Aerospace sector. Before taking on the role of CEO at Gardner Aerospace a couple of years ago, Dominic was Managing Director at Prodrive and before then MD of CTG - part of UTC Aerospace Systems. At Backing Britain Live, you can expect Dominic to talk about the Aerospace sector and supply chains in the UK.
Make sure to catch Dominic's speech on Tuesday 25th August at 12 pm, Click here to get your tickets.
Stephen Loftus CCO at Brompton Bikes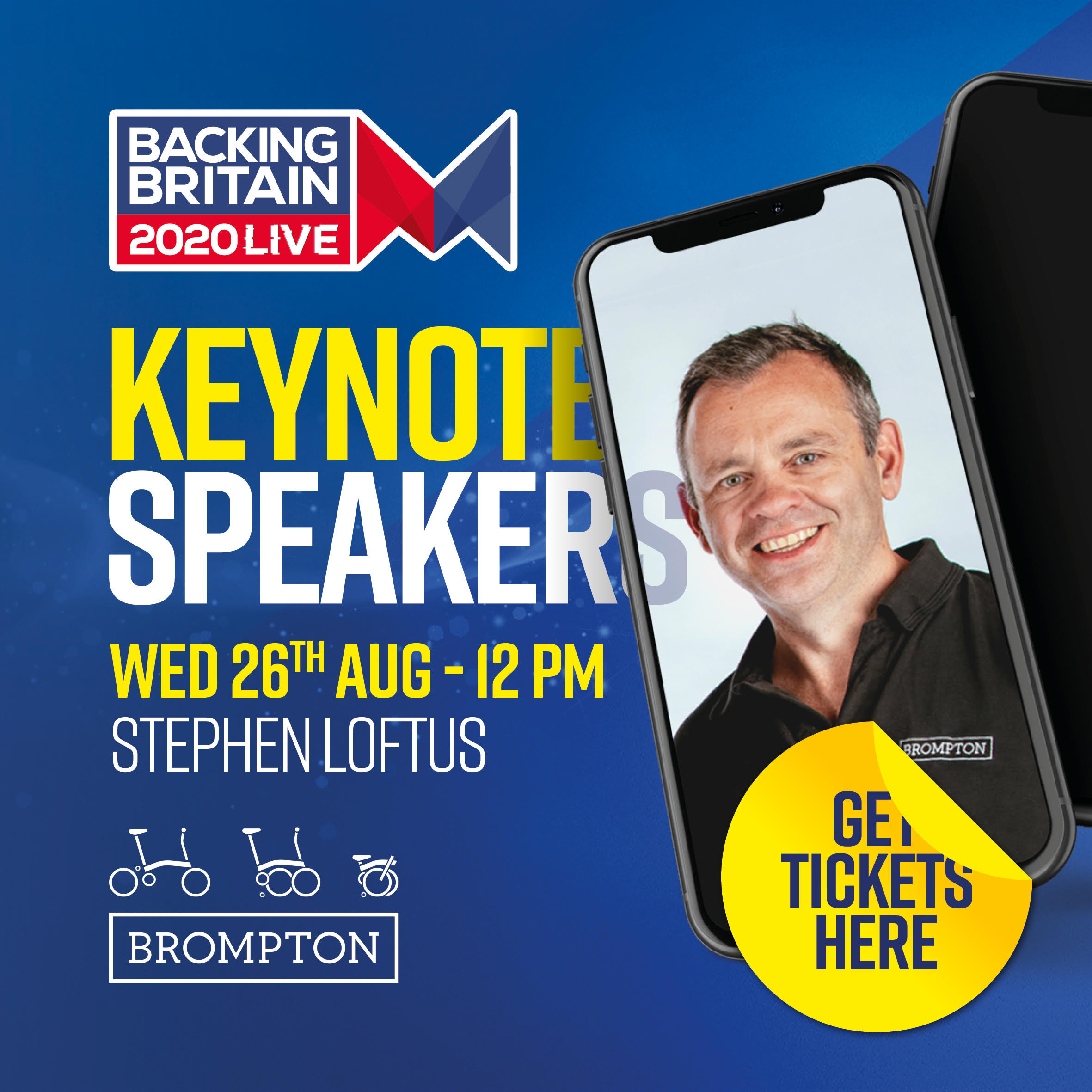 Sponsors of the Backing Britain event, Brompton Bicycle have been described as producing "the mother of all folding bikes" by The Telegraph. Stephen is Chief Commercial Officer at Brompton Bikes with extensive FMCG and start-up business experience. Stephen's talk will be centred around the idea which has been echoed by the UK government in recent weeks about the importance of using fewer cars and more bikes; "Is this the new golden age for cycling?"
Make sure to catch Stephen's speech on Wednesday 26th August at 12 pm, Click here to get your tickets.
DR Douglas Dawson CEO of Liberty House Group
"Dr Douglas Dawson is a prominent British business leader with a 30-year track record of achievement and success within the UK and international engineering, manufacturing and industrial sectors.
Currently, Chief Executive of Liberty Industries Group, he is also a member of the Strategic Board of the $26bn a year Gupta Family Alliance, a fast-growing global enterprise which includes the Liberty House and SIMEC groups; encompassing industrial, energy, shipping and commodities activities across 30 countries." Douglas event will focus on March 2020 – Fast Forward to the Future:
Reshaping the 9 to 5 commute, Business Travel, digital awareness and the "office" of the 2020's
Turning Industry Green & Carbon vs Green Drive Trains and mobility in the future !
Death of the High Street - Yes or No ?
The pandemic has not treated us all equally in business and person to person !
Big Govt Big Borrowing ! – How do we pay for it ?
Reversing the Globalisation of Supply Chains – Go Global Think Local !

The "Last Mile" – the battleground for logistics and customer service.
Make sure to catch Douglas' speech on Thursday 27th August at 12 pm, Click here to get your tickets