Circular thinking is a revolutionary approach that has the potential to reshape how we manage resources and tackle sustainability challenges. However, like any transformative concept, it requires careful planning and implementation to unlock its full potential.
Circular thinking and the circular economy are closely linked approaches to sustainability.
Circular thinking is a mindset that challenges the traditional linear model of Take à Make à Dispose. It emphasises designing products and systems for long-term use and finding ways to minimise waste through concepts like reducing, reusing and recycling (the 3R's).
The circular economy puts circular thinking into action on a larger scale. In a circular economy, products and materials are designed to have a longer lifespan, allowing for multiple uses and reducing waste.
This shift towards longevity and durability not only minimises environmental impact but also leads to cost savings and increased resource efficiency. Collaboration between industries, service providers, consumers and policymakers is key to making it work.
Circular thinking aims to close the loop by prioritising the principles of reduce, reuse, and recycle. By adopting circular economy practices, businesses can not only reduce their environmental footprint but also create new economic opportunities, drive innovation, and bolster long-term sustainability.
Circular thinking is increasingly recognised as a powerful framework for addressing pressing global challenges, such as resource scarcity, pollution and climate change. Its principles are being embraced by companies worldwide as a pathway to a more sustainable and prosperous future.
One such company is Ricoh Group, a leading provider of integrated digital services and print and imaging solutions.
Ricoh has sizeable global presence, employing 90,000 people across dozens of manufacturing, R&D and sales locations around the world. It's UK operations include technical sites in Telford and Stirling, and offices in London and Northampton.
Recognising the need for change, Ricoh established its 'Comet Circle' concept in 1994 to focus efforts on reducing the group's environmental impact. The framework covers all aspects of the business, from manufacturing and sales to the entire lifespan of its products both upstream and downstream.
-----------------------------------------------------------------------
Understanding the Comet Circle Chart
Each sphere in the figure shows a partner to realise a sound circular economy. New resources that materials suppliers in the upper right of the chart harvest from nature traverse the right through left of the upper route to become products that reach customer users. In a linear economy with mass production and mass consumption, used products flow from left to right across the bottom route, reaching landfill after energy recovery.
Under our circular economy approach, collection and recycling centers process used products and return them to the upper route. Products not sorted as products and parts return to the upper route as materials. The orange arrows in the chart are product reuse, materials recycling, and other loops.
-----------------------------------------------------------------------
During a recent Monthly Industry Meetup, Robert Farr, Senior Engineer at Ricoh UK Products, explained the four action guidelines that underpin the Comet Circle.
"We're trying to get waste streams from the bottom of the Comet Circle back into where we can reuse them and even transform them into a sellable option. Essentially, the closer you are to the left-hand side, the better chance you have to reduce your CO₂. emissions."
The first way Ricoh Group integrated circular thinking into its global operations was to add recycling to the end of its Lifecycle Management flow. But they didn't stop there. They quickly realised that simply bolting on recycling was only part of the solution. Far greater impact came through collaboration.
"We've prioritised collaboration by establishing a 3R group that is cross-regional, cross-functional and cross-competency. You may have to view this from a variety of different perspectives. For example, your customer's voice is an important aspect, as is forging key commercial partnerships.
"We're also looking at developing new recycling technologies that don't exist today, and exploring how to design and build a more susitable product, not just for today's needs but with an eye toward the future."
Ricoh's emphasis on collaboration and cross-functional thinking can clearly be seen in how the organisation approaches reusing consumables and parts within the product portfolio, or even selling new types of products, such as its brand of GreenLine remanufactured multifunction printers (MFPs).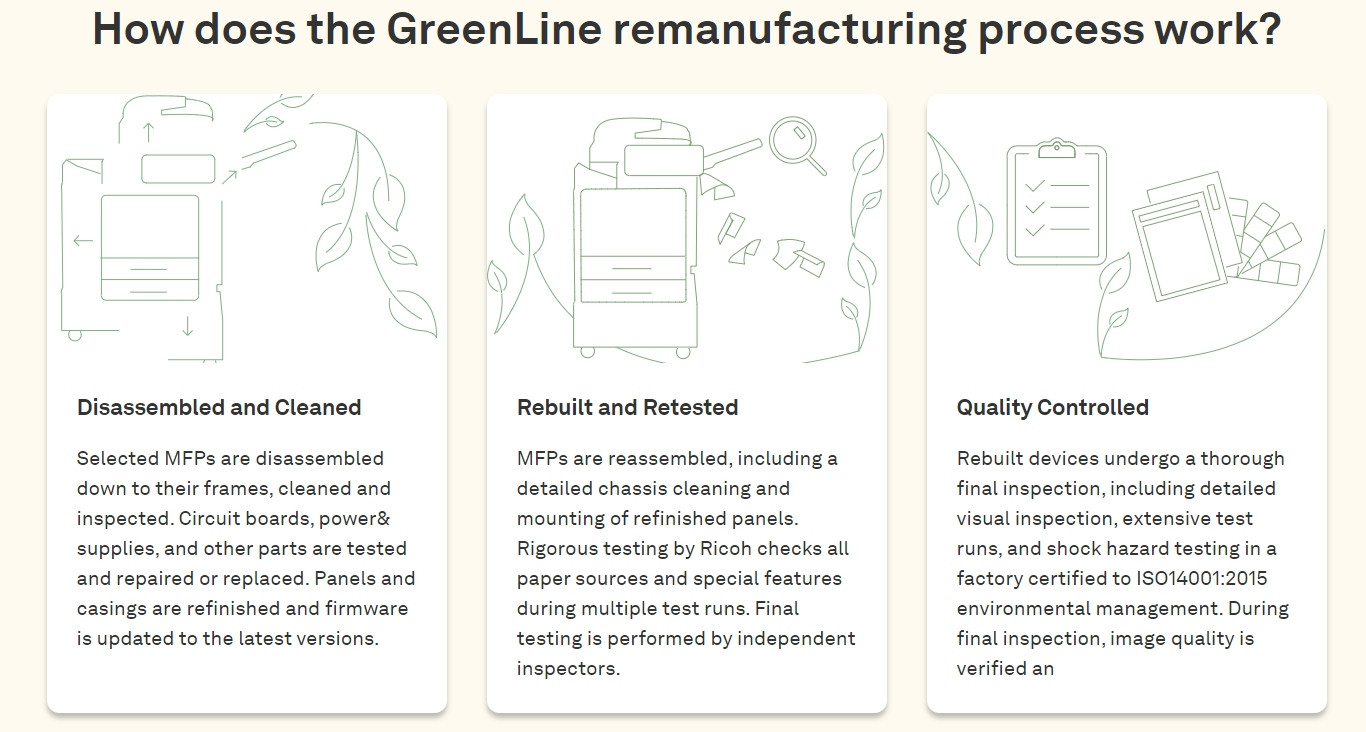 Planet versus profit
Adopting circular thinking isn't without its challenges, particularly for a for-profit organisation like Ricoh Group, stressed Robert. Each aspect of the Comet Circle model comes with its own set of costs and considerations. From maintaining a service network for extended product use to establishing collection systems for reuse, the path is rife with financial and logistical complexities.
"Pure recycling involves areas that Ricoh doesn't natively own the technology, we don't have the infrastructure, we don't have the core competencies. So, we have to rely on our partners more to support us, which comes with a challenge. If we want to develop it ourselves, that comes with a cost.
"Additionally, we have a no-landfill policy. But as an OEM, not all our products are sold within our own badged group. We sometimes sell to fleets and dealerships, and when that product is not owned by Ricoh, how do we deal with it? Again, we've got to think about collection systems and partners able to recover our products."
Beyond profit margins, there are broader considerations, Robert concluded. Ricoh recognises the importance of brand reputation market positioning, and regulatory compliances. These factors, too, play a pivotal role in shaping Ricoh's circular thinking.
Setting the right targets
Following Richard's talk, a Discussion Group of a dozen Made Members further explored the challenges businesses, particularly SMEs, face when adopting circular thinking.
It was noted that small businesses frequently struggle to effectively measure their carbon footprint, especially Scope 3 emissions that lay outside of their direct control. Although, it was acknowledged that this process can be equally challenging for large global corporates.
One common oversight identified was the tendency to favour overseas suppliers over local ones. Companies often prioritise the unit price of components or materials without fully considering the true landed cost. As carbon costs gain prominence, local sourcing may become a more financially viable option. The consensus was that economic forces will inevitably drive this shift.
Participants recognised the delicate balance between sustainable actions and maintaining cost-effectiveness and profitability. The implementation of a carbon border tax was noted as a clear indication of the direction in which the industry and nations are moving.
In response to these challenges, OEMs are taking on a more substantial role in supporting their suppliers. They are actively seeking ways to accelerate and simplify their transition towards sustainable practices, recognising that even small steps in the right direction can yield meaningful progress.
One piece of advice that resonated throughout the discussion was the importance of not attempting to tackle too much too quickly. Instead, participants emphasised the value of setting SMART (Specific, Measurable, Achievable, Relevant, Time-bound) targets and maintaining consistency in their sustainability efforts.
Furthermore, there was a consensus on the need to work towards a focused goal that is endorsed at the highest levels of an organisation. This goal should ideally be based on science-based targets and aligned with the United Nations' Sustainable Development Goals (SDGs). This structured and unified approach is seen as essential for meaningful progress towards a more sustainable future.
Join our Monthly Industry Meetup!
The opportunity to openly discuss challenges, opportunities and solutions is why the Made in Group's Monthly Industry Meetups are so invaluable.
During these captivating virtual events, industry experts, thought leaders, and professionals gather to share knowledge, insights and best practices.
The goal is to foster collaboration, inspire innovation, and drive growth within the manufacturing community.
Each month, we feature three engaging talks from Made Members, focusing on best practices around key themes that shape the future of manufacturing, including Global Trade, People & Skills, Future Factories and Sustainability.
The presentations are followed by interactive Discussion Groups. These virtual roundtables enable Members to exchange ideas and gain further insights on their chosen topic.
We look forward to seeing you at the next one:
*Header image from Pixabay, all other images courtesy of Ricoh Group