Made in Group's holds webinar on virtual meetings for members
Member Notice Board
The Made in Group held their first informational webinar on holding virtual meetings for beginners today. Members had the opportunity to learn more about setting up a Zoom webinar or meeting along with some tips on what to do as a host.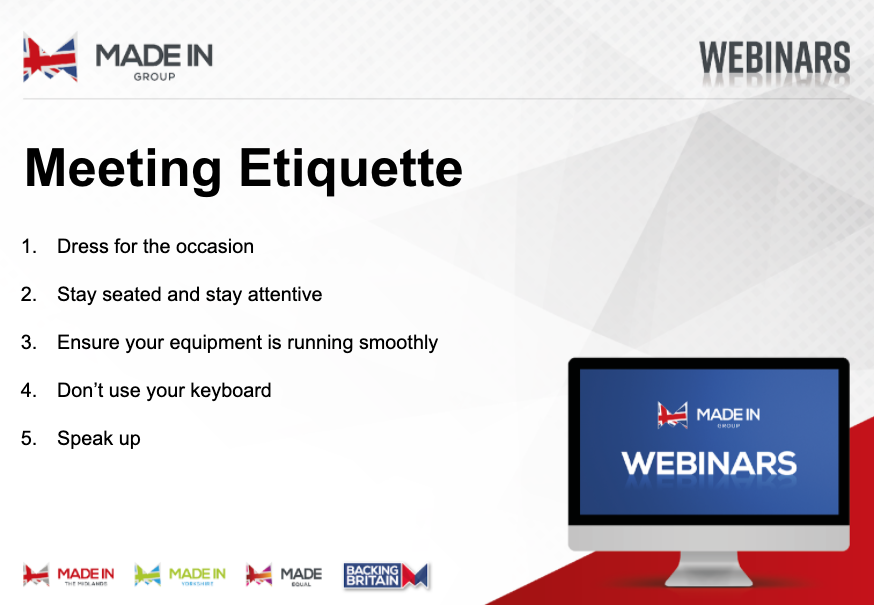 Made in the Midlands and Made in Yorkshire members virtually gathered for a webinar on the backend of the Made platform to get advice on how to hold a Zoom meeting. With many people having to work from home due to the current pandemic, the way we work has changed in many ways. Applications such as Zoom, Demio and Google Hangouts have become increasingly useful, especially when holding a meeting or conference with colleagues.
That's why the Made in Group wanted to share some of their top tips on things you could do to ensure you hold a professional meeting or webinar. Attendees had the chance to learn more about using virtual backgrounds, enabling practice sessions before beginning a session, things to do to make sure you are prepared and how to set up the perfect webinar or meeting to suit their needs.
If you didn't have the chance to join today's webinar, but think you may find it useful, you can watch or download it by heading to the backend of your microsite and going to Virtual Meetings. You can also download the virtual background used in the webinar by going to resources.