The Relaunch of Made in Group's "In Person" Events
Made News
Have you heard? Made in Group have relaunched their in person, physical events for members of Made in the Midlands and Made in Yorkshire.
These new events have been announced in unison with Made in Group's brand new events calendar, which maps out the schedule until April 2022.
The first in person event has already been held by Made in Group, as part of a meet up for the Made Angels Investor Networker. The event saw speeches from long-serving member and patron ThreeWayPressings and Brewin Dolphin, alongside an inspirational speech from Chairman of the Made in Group Lord Mike Whitby.
Ensuring safety measures were kept within Government guidelines, members had the chance to network, enjoy a Michelin star lunch and have a beer or two in the open conservatory at Cosmo Bonsor, Wolverhampton.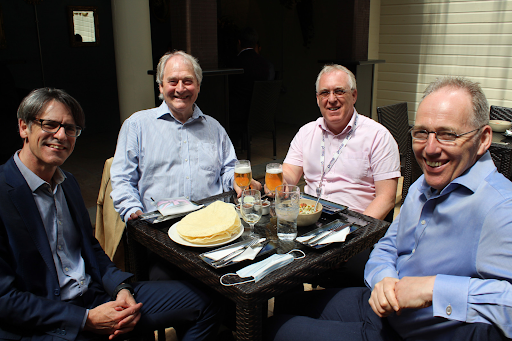 Looking to the future, there are many in person events planned for both Midlands and Yorkshire members; notably both Made Angels events and a new format called a "Backing Britain 3.0 Taster Event".
To celebrate the hard work and dedication of manufacturers who worked tirelessly throughout the course of the COVID-19 pandemic, these events will feature an awards ceremony for the 'Manufacturing Heroes' title.
Each of these events will give members the opportunity to sponsor and the first drink is on Made in Group!
In order to attend our physical events, to ensure all of the members' and teams' safety, members will be asked carry out a COVID lateral flow test on the day of the event.
Browse the in person events calendar for

Made in the Midlands

members below:
Backing Britain 3.0 Taster Event in Cosmo Bonsor, Wolverhampton (Thursday 1st July, 4:30pm) SOLD OUT
August Britain 3.0 Taster Event in Cosmo Bonsor, Wolverhampton (Thursday 2nd September, 4:30pm)

SIGN UP
Made Angels Investor Network in Wolverhampton (Friday 3rd September, 12:30pm)

SIGN UP
Backing Britain 3.0 Taster Event in Cosmo Bonsor, Wolverhampton (Thursday 7th October, 4:30pm)

SIGN UP
Backing Britain 3.0 Taster Event in Cosmo Bonsor, Wolverhampton (Thursday 4th November, 4:30pm)

SIGN UP
Backing Britain 3.0 Taster Event in Cosmo Bonsor, Wolverhampton (Thursday 2nd December, 4:30pm)

SIGN UP
Backing Britain 3.0 Taster Event in Cosmo Bonsor, Wolverhampton (Thursday 3rd February, 4:30pm)

SIGN UP
Backing Britain 3.0 Taster Event in Cosmo Bonsor, Wolverhampton (Thursday 3rd March, 4:30pm)

SIGN UP
Made Angels Investor Network in Wolverhampton (Friday 4th March, 12:30pm)

SIGN UP
Backing Britain 3.0 Taster Event in Cosmo Bonsor, Wolverhampton (Thursday 7th April, 4:30pm)

SIGN UP